The cabinet's first main ambition is to guarantee a safe and climate-proof delta. The Netherlands is vulnerable to the consequences of climate change. This requires measures to prevent further climate change, on the one hand, and steps to adapt to its consequences, on the other. This is called climate adaptation. Climate adaptation is a challenge that touches on and cuts across numerous different policy areas and sectors. Many policy goals and measures in the NWP contribute to climate adaptation.
"It's good to continue talking about what still needs to be done and realise that we're not finished yet. But let's do that in the knowledge that if there's one country that can succeed in this, it's the Netherlands."
Co Verdaas (chair of the Rivierenland water authority board)
Protection against floods
The Netherlands is the best protected delta in the world and we like to keep it that way. As such, climate adaptation is an important part of our flood risk policy.
 
To continue to protect our country against floods in the future, we build on existing strategies, such as the flood risk approach and multi-layered flood risk management.  
 
Multi-layer flood risk management comprises:  
prevention by strong dykes, dams and dunes and by sufficient discharge capacity of the rivers (layer 1)
limiting the consequences by means of a water-robust spatial organisation (layer 2)
limiting damage and casualties by means of emergency plans, evacuation and follow-up care (layer 3)
 
Dutch dykes must meet the increased statutory standards by 2050 at the latest. As part of the High Water Protection Programme, we are also taking other measures to keep the area around the major rivers and the coast safe, among others by means of targeted vegetation management and sand suppletion. We are also working on the reinforcement of regional flood defence systems.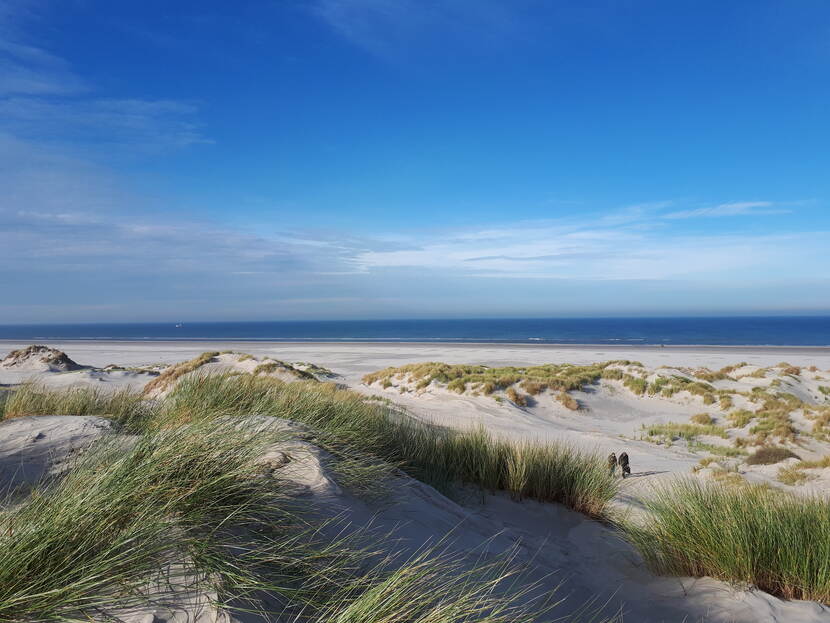 It is also important to look further into the future. We are doing this in several ways. For instance by means of the Sea Level Rise Knowledge Programme, in which we explore how long current strategies will last and what other solutions may be possible in the distant future.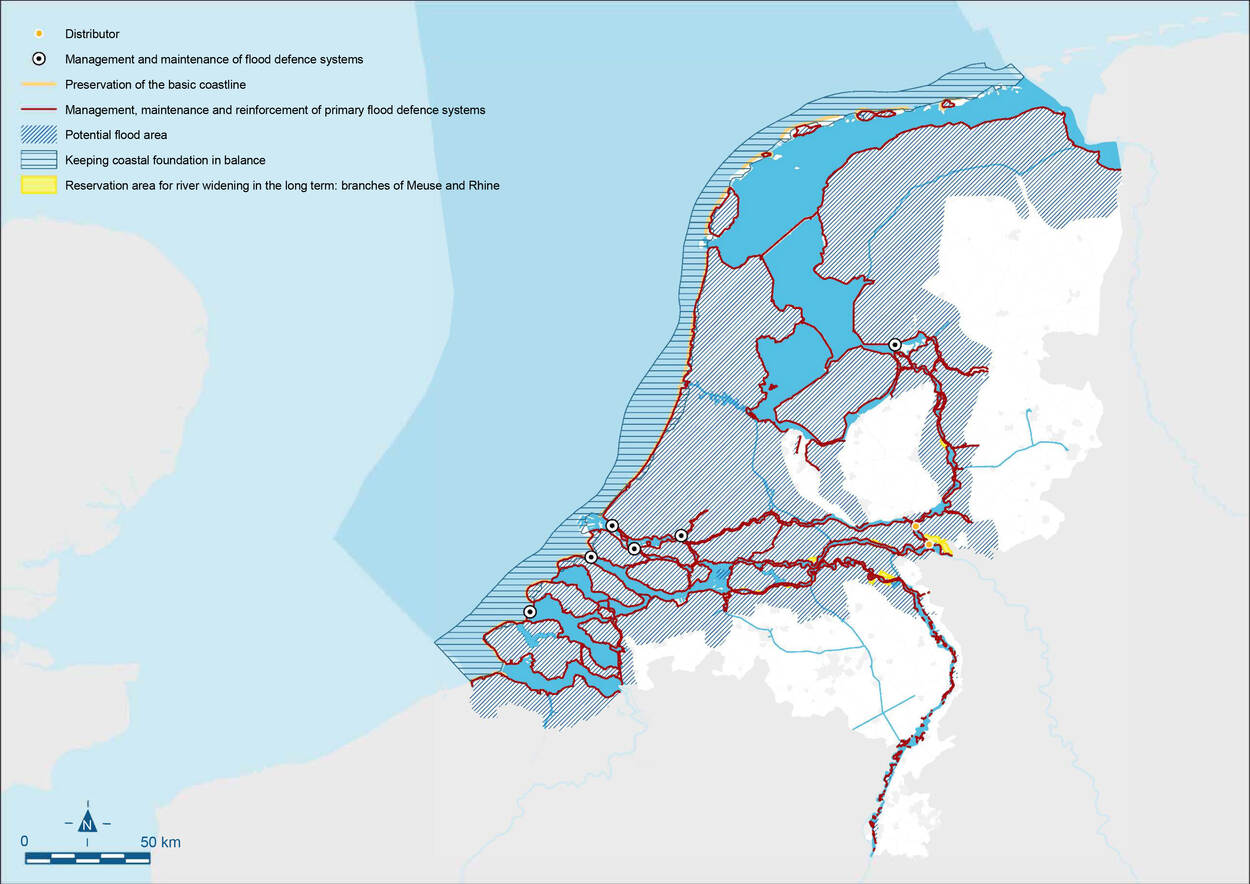 Climate-proof spatial organisation
In addition to protection against flooding, we want the Netherlands to be climate-proof and water-robust by 2050. It has been agreed in the Delta Programme that local authorities will map out regional and local bottlenecks and draw up a strategy and implementation programme for climate adaptation. To do so, municipal councils, provinces and water boards can use the Impulsregeling klimaatadaptatie. Under this  financial scheme they can get a contribution from the national government for the climate-proof organisation of their public space.
When it comes to national vital and vulnerable functions – such as drinking water and energy supplies – and national infrastructure networks, the responsibility for climate adaptation measures lies with the national government (see the figure below).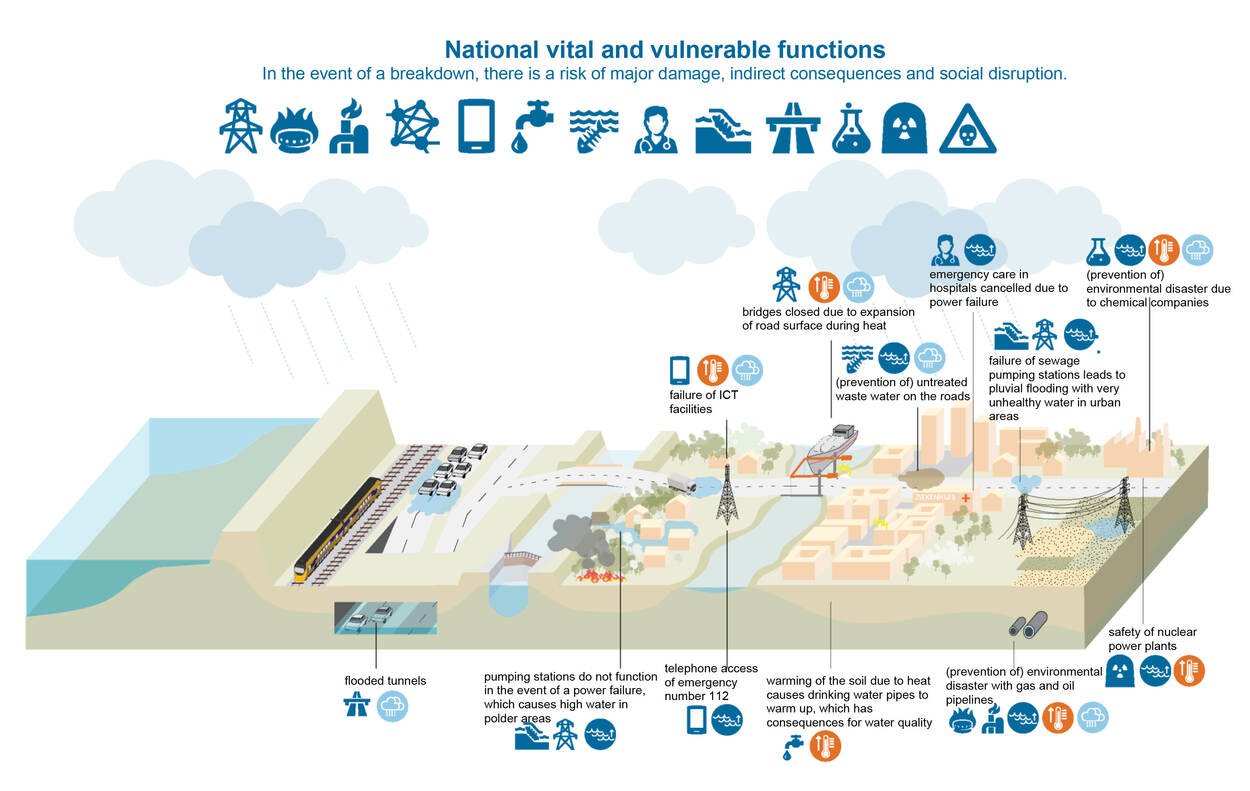 "A regional approach provides clarity, an equal playing field and – last but not least – shared knowledge. This enables us to take steps faster."

Rik Heinen, policy advisor for Water and Climate Adaptation in the municipality of Dordrecht
The Netherlands as a country defined by water
In the Netherlands as a country defined by water, both regional and national climate adaptation measures should be based on the characteristics of our water system. In other words: the soil and water system is leading for the climate-proof organisation of our living environment.
Management by Rijkswaterstaat
The climate-proof organisation of our country is crucial to flood risk management. Rijkswaterstaat, the executive agency of the Ministry of Infrastructure and Water Management, is responsible for the construction, management and maintenance of the required infrastructure, such as flood defence systems and locks, river beds, basic coastline and coastal foundation. Special attention is devoted to the movable flood barriers, which must meet high reliability requirements. Due to rising sea levels, the number of necessary closures of the movable flood barriers will increase. This challenge demands enhancement of knowledge and skills.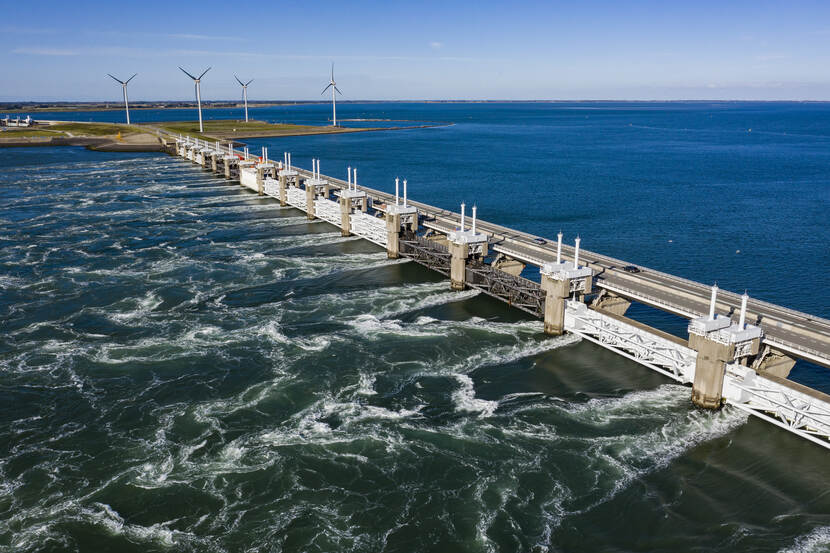 Stress tests for climate change
Rijkswaterstaat conducts so-called stress tests to map out the climate change vulnerabilities of the main water system, the main waterway network and the main road network. They do this on the basis of climate scenarios and themed maps for such issues as heat, soil subsidence and drought.